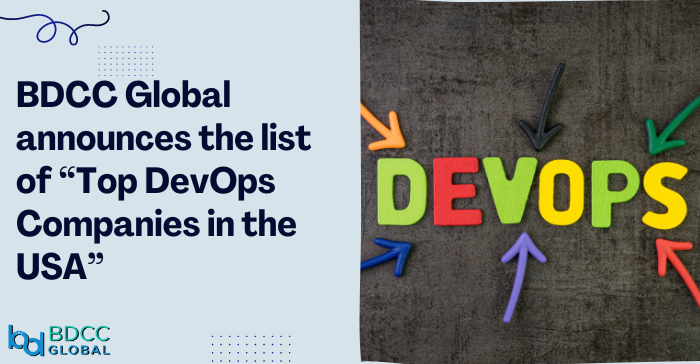 BDCC Global's latest research distinguishes the top 10 service providers in the "DevOps consulting companies in the USA" category.
BDCC Global highlighted the top 10 DevOps service providers in the United States in the latest list published on their website. The list was announced on 10 January 2020 containing 10 most reliable names from the DevOps industry from different parts of America to help the companies searching for suitable DevOps consulting firms.
DevOps has become one of the highly recommended practices for software development companies. It helps businesses to achieve development goals in a shorter span of time. Now, when DevOps is a must for every enterprise, it is mandatory to find a suitable DevOps consulting firm that can decorate your objectives better to provide you with the desired result. The 10 companies included in the list have proved to be the best in the DevOps consulting field by providing outstanding customer experience, communication, industry expertise, and fast results.
The following agencies are recognized by BDCC Global for exhibiting excellence in DevOps consulting field: Perficient, Algoworks, Cloud Technology Partners, ServerCentral Turing Group (SCTG), 8th Light, NetEnrich, Sumo Logic, Switchfast, Contino, and Xenonstack.
Danial James, Director of BDCC Global, was quoted saying- "It was a difficult task to handpick 10 best DevOps companies out of the thousands of the companies providing DevOps services in the USA. Our focus was to discover gems out of coal mines. When you are making a list of the best, you can not just pick the biggest names of the industry, You have to look for startups and small companies delivering promised results, as well. We researched well and scaled every company on many fine parameters and then published our report. I hope this list will help enterprises to pick the best DevOps consulting company that suits them."
Check out the list here: DevOps companies in the USA
About BDCC Global: BDCC Global is a leading research company where we list the top DevOps service providers around the globe. At BDCC, we do a thorough evaluation and analysis of various DevOps consulting companies and based upon certain criteria (primary and secondary research, gathering data from multiple sources), we list them down so that you get to skip the hard work and pick the most suitable DevOps consultants for your business.
The following two tabs change content below.

BDCC
Co-Founder & Director, Business Management
BDCC Global is a leading DevOps research company. We believe in sharing knowledge and increasing awareness, and to contribute to this cause, we try to include all the latest changes, news, and fresh content from the DevOps world into our blogs.