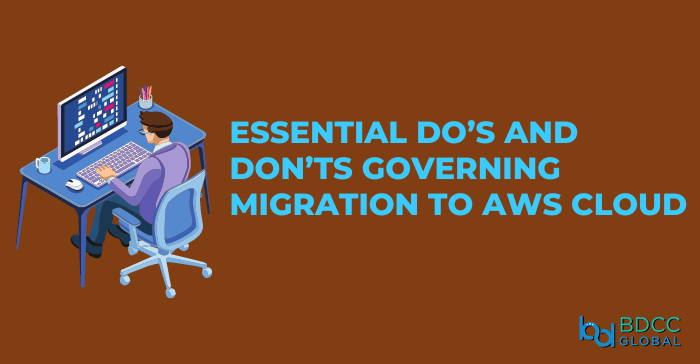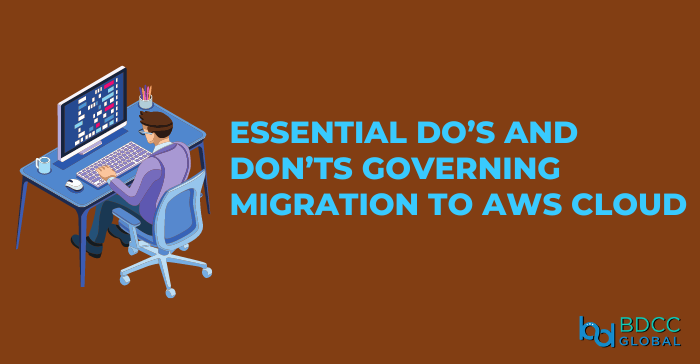 The current sphere is witnessing a paradigm inclination of businesses towards cloud computing. They are benefitting from cloud computing's efficiency, scalability, ease of management, cheap cost, and a host of other advantages. Speaking of moving to cloud computing, Amazon Web Services or AWS has surfaced as a prominent name in the cloud provider list. But, the migration to AWS cloud is often considered a difficult one by certain architects, engineers, and other technical experts.
Understanding the rising demand for a straightforward explanation, this article lists out all the dos and don'ts you need to undertake while making the migration.
Digging deeper into the rules and regulations of migration to AWS cloud lead to endless organizational success."
Migration to AWS Cloud Do's
For the process of migration to be effective, certain mandatory regulations need to adhere to.
Setting a Business Case
Calculate the amount if you want to cut costs. Create a distinct SLO or service-level objective if your goal is to increase availability. This will serve as your AWS cloud migration's primary impetus. Based on that, all additional artifacts should be created.
Streamline Data Accumulation and Discovery
Create a migration portfolio using automated data compilation and examination. Do not base your analysis on verbal or mechanically prepared spreadsheets. Allow machines to gather data on stock levels and consumption patterns. It is best for DevOps cloud computing to get data that is as exact as possible. In most circumstances, the AWS Migration Evaluator service will assist you with this.
Strategy for Modernization
Along with the migration program, craft a modernization plan. You will need to perform well-architected reviews and revamp to succeed in cloud computation. Due to the size of the initial modernization, it is crucial to arrange and plan funds and resources in advance.
Migration to AWS Cloud Don'ts
You should consider the following and refrain from applying during your migration process.
Being Overly Quick to Migrate
The best way to proceed with your migration to AWS cloud is to analyze the business case, think it all over, and finally, work on it. It is never recommended for an organization to hastily migrate to the cloud as numerous activities need to be checked. There are instances of companies attempting to migrate on-premises VMs but failing due to the OS on the machines becoming obsolete. Like this, a huge amount of configuration tasks, tailormade testings and codings, and additional tasks need to be ensured before migration.
Migration Without a Defined Purpose
One of the first questions you need to ask yourself while dealing with cloud management DevOps is why you wish to migrate to the cloud. Quite a lot of times companies want to move to the cloud for cost-cutting. But without conducting a thorough cost analysis, they execute a lift and shift migration only to realize that it costs even greater.
This is just one instance of how proceeding with undefined goals would result in the failed installation of the AWS cloud.
Migration in a Black Box
Don't think of the workloads you move as a mystery. Comprehending exactly the components you wish to migrate, what technological essentials it has, what dependencies it has, and how it operates are very crucial. You'll be able to select the ideal workload transfer technique with the help of that information.
Ensure Sound Architecture
Most of the time, people attempt to hastily get done with the implementation of the cloud migration process. This ultimately leads to a disrupted architecture owing to weak framework pillars. They disregarded the cornerstones of a well-designed framework. Migration to AWS cloud is a mistake that could have various adverse effects ranging in severity. Avoid ignoring the pillars of a well-architected framework because if you do, you won't be aware of possible problems or risks until they have already happened.
One strategy for all situations
One of the factors to consider during the migration to AWS is making a single comprehensive plan that covers all workloads is always simple. Consider lifting and relocating everything, then rehosting it in the cloud. By dissecting every aspect of the task and selecting a different approach for each, you will save a lot of resources. Plan well and gather data.
Moving a bridge from one river to another by picking it up and dropping it there has never worked. Measuring, analyzing, designing, and planning are the keys to a successful migration to AWS cloud. Although moving a job to the cloud can be challenging, you can find these dos and don'ts helpful.
The following two tabs change content below.

BDCC
Co-Founder & Director, Business Management
BDCC Global is a leading DevOps research company. We believe in sharing knowledge and increasing awareness, and to contribute to this cause, we try to include all the latest changes, news, and fresh content from the DevOps world into our blogs.