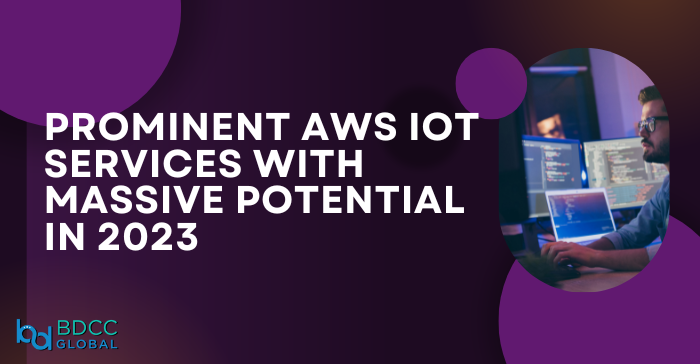 This 2023 Amazon Web Services (AWS) is all set with a whole bunch of Internet of Things (IoT) services, capable of collecting, storing, and analyzing IoT data for commercial, industrial, and automotive workloads. AWS IoT is offering businesses greater peaks with huge customer potential this year with the following services:
1. Device software: FreeRTOS; Greengrass, ExpressLink, Edukit
2. Control & connectivity services: IoT Core, IoT Device Defender, IoT Device Management, IoT FleetWise
3. Analytics: IoT SiteWise, IoT Events, IoT Analytics, IoT TwiMaker
With so many incredible IoT Solutions, channel partners need to learn which services are the new additions and what are the feature benefits! Why? Because
"It is time to reimagine what you can offer to your customers in 2023 with AWS Internet of Things"
Think about how to connect with the world and bring your services to the doorsteps of your global consumers. New opportunities await AWS partners in 2023 as Amazon IoT solutions are adding excellent service capabilities this year.
#1 AWS IoT Core Device Location Feature
Amazon has introduced a new IoT Core managed feature called "Device Location" that allows B2Bs to choose the best-suited location technology based on their business constraints. The best part is; IoT Core Device Location doesn't rely on the device's GPS hardware.
Getting started with IoT Core Device Location is quick and easy:
Setup LoRaWAN gateway
Provision LoRaWAN wireless device
Setup device profile
Verify the device connectivity
Visualize the location tracker
Customers can use the AWS IoT console to calculate a desired location's geo-coordinates with just a few clicks. Further, customers can optimize several business processes, automate maintenance efforts, build asset-tracking solutions, and unlock new business use cases with IoT Core Device Location.
Amazon also launched the "Location Action" capability to route longitude and latitude data from synced IoT devices to Amazon IoT Location Service. With such functionality, software developers can easily add geospatial data to the desired IoT applications. It is an easy way to store useful data in Amazon IoT Core Device Shadow.
#2 Direct Integration of IoT Device Defender with AWS Security Hub
Among so many newly released IoT services, the Amazon IoT Device Defender integration with Amazon Security Hub is the best news to B2B and B2C companies. This doesn't require custom coding to ingest alarms and the corresponding attributes from detect and audit features in the central location. Instead, this feature helps reduce disparate workflow complexity due to multiple security consoles.
AWS' IoT leader Alsaied confirmed Amazon partners could add tremendous value for their consumers with the direct integration of IoT Device Defender and AWS Security Hub in 2023. With the Device Defender, you can connect every IoT device and resolve all security issues using the AWS Security Hub.
This integration combines the capabilities of AWS IoT services with the cloud system. This can help businesses secure millions of IoT devices from a centralized platform. So all connected IoT devices can be monitored and reviewed through the IoT Device Defender 24/7.
#3 Amazon IoT TwinMaker Utilizing User's Own Data Source
Amazon IoT TwinMaker is now utilizing a connector-based architecture to allow users to connect to their desired data sources. As IoT TwinMaker no longer needs to re-ingest, users don't have to migrate the data from one location to another. Instead, users can utilize the built-in AWS data connectors including Amazon Kinesis Video Streams and Amazon IoT SiteWise to connect to various data sources.
Here are the steps to connect the AWS IoT TwinMaker with a data source like Amazon DynamoDB:
Create a new Amazon DynamoDB table or use an existing database.
Use a Lambda Function to create the Schema initializer connector.
Use a Lambda Function to act as the DataReader and take inputs from the database.
Create the AWS TwinMaker Workspace with TwinMaker Components.
Test the TwinMaker components' connectivity with the data source.
As the Amazon IoT TwinMaker utilizes a unified data access API to connect to the user's digital twin's source data, this among other IoT services in 2023 holds a huge customer potential. The best part is; users can use the existing data sources without moving the data to any other location.
#4 Vehicle Data Processing Amazon IoT FleetWise
Amazon IoT FleetWise will be the right investment option for fleet operators, automakers, and automotive suppliers who plan to digitalize their services in 2023. This fully-managed AWS service is the perfect solution for collecting, transforming, and transferring vehicle data to the cloud.
AWS IoT Fleetwise offers the following vehicle data process solutions to users:
Vehicle issue prevention facility to offer an improved driving experience.
Advanced Driver Assistance Systems (ADAS) with ML models to optimize manual efforts.
Reduce data volume with standardized access through cloud ingestion.
Accelerate innovation by making the vehicle data actionable in real-time.
With Amazon FleetWise, you can unlock the vehicle data from the still or moving car, train, bus, plane, or any other vehicle. You can utilize the collected data through the cloud to understand the flow of traffic and potential risk areas. The best thing is; you can create a logical solution-based architecture with AWS IoT FleetWise.
Accelerate Innovation in Amazon IoT Solutions in 2023
Amazon IoT-based services are divided into three categories – Device software services, connectivity & control services, and analytics services. Every service has unique features and capabilities that allow you to:
Scale and optimize device performance with secure device connectivity and management solutions.
Secure all IoT applications and the corresponding data in the cloud.
Build intelligent IoT solutions using superior Artificial Intelligence and Machine Learning integration.
Build innovative solutions on the proven cloud infrastructure that can scale billions of devices.
In 2023, AWS IoT is going to expand its services and solutions even more, bringing better functionalities and user facilities. Take hold of all this amazingness and build a huge customer potential through connecting and managing billions of devices altogether.
The following two tabs change content below.

BDCC
Co-Founder & Director, Business Management
BDCC Global is a leading DevOps research company. We believe in sharing knowledge and increasing awareness, and to contribute to this cause, we try to include all the latest changes, news, and fresh content from the DevOps world into our blogs.