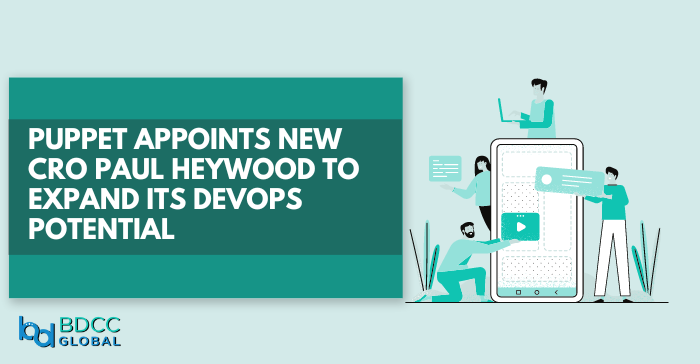 Automation software producer Puppet has appointed a new Chief Revenue Officer, Paul Heywood
It is hoping the move will mean generating new revenue paths and further its growth potential in the DevOps market.
"DevOps is a massive and growing market. Living in a world where technology is changing at an unprecedented pace and there are still many uncertainties, having experienced leaders and advisors is more important than ever," said Yvonne Wassenaar, CEO, Puppet.
"In the time Paul has been at Puppet running our international business, it is clear he has the expertise and passion to quickly adapt to changes and build plans to help business growth. I am excited to see the impact he will drive forward for our customers and for Puppet."
Since joining the Puppet family in 2019 as Senior Vice President of International Sales, Heywood has helped develop strong relationships with key partners such as Dell/EMC.
Previous to Puppet, Heywood was the VP of Worldwide Sales and Business Strategy at Oracle under their Oracle Cloud Infrastructure Group.
He has 20 years of experience in the sector including IT infrastructure, SaaS, cloud computing, and IT-managed service providers, making well suited for expanding DevOps operations.
Heywood will be responsible for accelerating Puppet's growth and overseeing the company's corporate development, sales and revenue management across the globe.
Puppet has expanded across the Global 500 to new teams and departments, through new products (Puppet Remediate) and new capabilities (Impact Analysis with Continuous Delivery for Puppet Enterprise).
Puppet also announced its participation in Pledge 1% to further its global philanthropy commitment and the appointment of Susan Nash to the Board of Directors.
"Infrastructure automation is a mission-critical pillar of the modern enterprise and the opportunity for Puppet to address the key requirements and the needs of operations, DevOps, networking and security teams is greater than ever," stated Paul Heywood, CRO, Puppet.
"I am delighted to be playing a critical role in further expanding the footprint and adoption of Puppet solutions and proud to be working for a company powering digital transformation for some of the largest businesses in the world."
Disclaimer- This article was originally published on www.information-age.com
The following two tabs change content below.

BDCC
Co-Founder & Director, Business Management
BDCC Global is a leading DevOps research company. We believe in sharing knowledge and increasing awareness, and to contribute to this cause, we try to include all the latest changes, news, and fresh content from the DevOps world into our blogs.