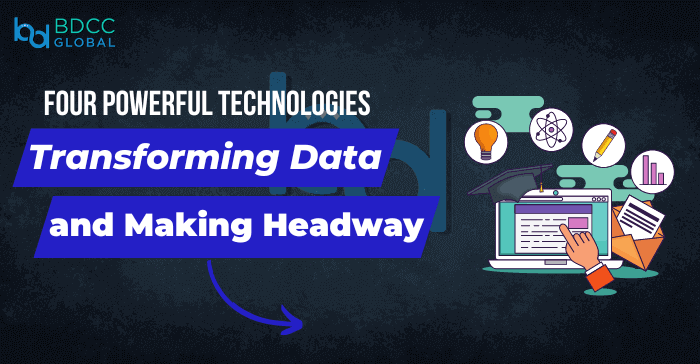 A lot has been occurring on the business front. On closer scrutiny, you would observe how there has been a major evolution in transforming data over the years. Disruption and change have become the driving factor and new normal, regardless of what industry you are focusing on, From Applied Observability to API economy – these transformational technologies are strengthening DevOps and IT operations to handle disruption and control data.
These technological transformations equip businesses to offer even more efficient operations and better customer experiences. Let us study the four technologies in detail.
"From applied observability, hyper automation, metaverse to ML – the four powerpack technologies are all set to amp up the process of transfiguring data this year."
Four Leading Technologies Transforming the World of Data
The upcoming years will be encountering a massive advancement in the data field. The following four technologies play a huge role in determining how organizations utilize data.
Hyperautomation – Featuring Progressive Computing Technology
Automation is undoubtedly the greatest driving factor in the growth of digitalization. According to Gartner, organizations perceive automation as an approach where technology does the work which was once done by human words or actions.
Gartner has termed 'hyper automation' the new-age automation technology, including AI (artificial intelligence) and ML (machine learning). This aims at swiftly recognizing and automating every possible business process.
Hyperautomation will boost cloud DevOps functionalities since its usage can be extended across many tools. Though, hyper-automation demands an organization be supported by an event-driven architecture and, more importantly, an event mesh for maximizing wins. To define the same, the event mesh is a unified network of event brokers that permits data to be delivered to different segments of the organization where it is required.
To understand this technology, let us take the example of the aviation industry. An event mesh circulates comprises information like flight routes, cancellations, delays, and more. With the help of this mesh, the required amount of information is circulated across multiple systems. As a result, customer experience is enhanced since pilots, crews, and passengers are notified of the details in real-time.
Applied Observability – A Robust Weapon for Decision-Making
This technological advancement has been first detected by Gartner as a prime 2023 strategic technological trend. To throw some light on this trend, it confirms that the correct data is conveyed at the correct time to ensure immediate action based on guaranteed stakeholder actions rather than intentions.
The meaning of observability has experienced a change in meaning, it has matured from its foundational stage where it was only believed to be a technological term. It is believed to track the prime data events in a developing business world.
Applied observability is one of the technologies transforming the organizational world by benefitting its data for competitive advantage. "Observable" data comprises important digitized artifacts like API calls, dwell time, downloads, logs, traces, file transfers, and more, appearing when any stakeholder takes action.
Applied observability provides these visible artifacts in a structured approach to streamlining the organizational decision-making process. It further enables entrepreneurs to trace the longevity of the action to process entirely.
Through this technology, one can acquire real-time observability reports, charts, and insights. With the incorporation of applied observability on DataOps DevOps, one would be able to lessen the response times to customer queries and increase the efficiency of daily operations.
Automation Metaverse Continues to Rule
According to McKinsey, Metaverse will rise to a valuation of $5 trillion by 2030 – and for all the right reasons. From consumer habits to public services to the corporate world, the presence of the metaverse is vividly felt. Data present in real-time will unite the common division between the digital and physical worlds and amend the Metaverse.
McKinsey considers real-time data a crucial feature in expediting the adoption of metaverse around different industries like transportation, financial and banking services, retail, etc.
It must be understood that the metaverse cannot be stable. It is ought to be in real-time and in action. Furthermore, the automation metaverse requires an event-driven architecture or EDA and a concurrent event mesh for backing it up.
To understand the same, let us take the example of an avatar visiting a retailer in the Metaverse. The retailer should monitor when someone notices a specific product, which receives the maximum interest, and so on. The metaverse creates massive data that benefits organizations in real-time. Not only that, with the help of this data, one can make informed decisions about inventory, stimulating commerce by incorporating offers, discounts, etc.
The Implementation of Big Data and ML
Currently, the IT industry has all the power to draw, load, and transform massive amounts of data that transcends previous abilities. But, the benefit doesn't concern the quantity but what all the firms can take from it.
The blend of machine learning and DataOps DevOps has a great possibility of foreseeing the forthcoming customer behavior. This can be done by recognizing the patterns in data sets and drawing the probability of numerous outcomes. For instance, you will be able to foresee the possibility of:
A person purchasing a specific product or service.
A patient suffering from a particular disease.
A person getting influenced by a particular trend, and so on.
The presence of machine learning and big data in cloud DevOps ought to boost the company's growth. The main reason is anticipating the customer's expectations and accordingly meeting the demands.
The aforementioned four data-led technologies have ample possibilities to completely evolve the organizational front. It can boost the way organizations perform through better communication, smooth operations, and, most importantly, aiding in making significant business decisions. As you incorporate these technologies that have played an immense role in transforming data, be prepared to encounter innovation and social evolution.
The following two tabs change content below.

BDCC
Co-Founder & Director, Business Management
BDCC Global is a leading DevOps research company. We believe in sharing knowledge and increasing awareness, and to contribute to this cause, we try to include all the latest changes, news, and fresh content from the DevOps world into our blogs.