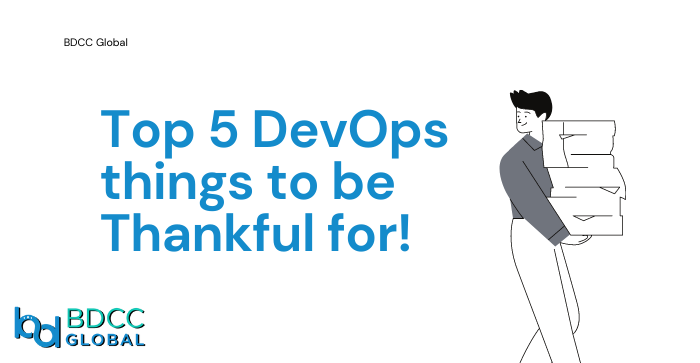 Thanksgiving has been observed in the U.S. since 1861 and was officially designated as an official holiday in 1863 by president Lincoln. Of course, the tradition itself traces its lineage to the early days of the Pilgrims.
This past year, of course, has been one of recovery from a pandemic that caused the deaths of millions of people around the world. Vaccines have saved the lives of countless more, so there is much to be thankful for despite all our recent trials and tribulations. In that spirit, there are more than a few things for DevOps professionals, in particular, to be thankful for this year starting with:
Digital business transformation: Organizations of all sizes have had to adjust their business models because of both major changes in buyer behavior and an ongoing supply chain crisis. DevOps teams are at the core of any major digital business transformation initiative, so the demand for DevOps expertise continues to outstrip the available supply. Going forward, it's been predicted we'll see more digital transformation in the next 10 years than in all the last 40 years combined. The vast majority of those initiatives would never see the light of day if it were not for the expertise of developers and engineers working hand-in-hand to build and deploy applications faster than ever.
Low-code platforms: As the demand for applications to drive digital workflows spiked in the wake of the pandemic, professional developers relied more on low-code platforms to decrease the time required to build an application. While many complex applications will still be built using procedural code, it's clear not nearly as many applications could have been deployed without relying on low-code platforms to build them. It remains to be seen how many of the next generations of low-code applications will be built by so-called citizen developers that may soon be flooding DevOps pipelines with application code.
Microservices: As an architecture for building applications the core concept of employing loosely coupled services together to construct an application goes all the way back to when service-oriented applications (SOA) were expected to be the next big thing in the 1990s. Microservices have, of course, been around for several years themselves. However, with the rise of containers as a software artifact for building microservices, it's only now becoming apparent that building an application constructed using microservices not only takes less time but is easier to maintain and also more resilient.
Observability: As a concept, observability traces its lineage to linear dynamic systems. Observability in its most basic form measures how well the internal states of a system can be inferred based on knowledge of its external outputs. In the past year, a wide range of IT vendors introduced various types of observability platforms. These make it easier for DevOps teams to query machine data in a way that enables them to proactively discover the root cause of issues before they cause further disruption. That's a major advance over monitoring platforms that typically only provide predefined metrics to identify when a specific platform or application is performing within expectations.
DevSecOps: As an extension of any DevOps best practice, DevSecOps generally describes an overall shift left in terms of making developers more responsible for application security. While still in its relative infancy, DevSecOps is starting to gain traction as DevOps and cybersecurity teams look to bridge a cultural divide that is as wide as any in IT. The ultimate goal is to deliver more secure applications without reducing the speed at which they are being built and deployed.
The most important thing, of course, is that so many DevOps professionals are still here to build and deploy applications. It's been a trying year for all concerned; however, as the pandemic crisis continues to recede, we can all be thankful for the opportunities that lie ahead.
Disclaimer: The original blog was published on devops.com
The following two tabs change content below.

BDCC
Co-Founder & Director, Business Management
BDCC Global is a leading DevOps research company. We believe in sharing knowledge and increasing awareness, and to contribute to this cause, we try to include all the latest changes, news, and fresh content from the DevOps world into our blogs.