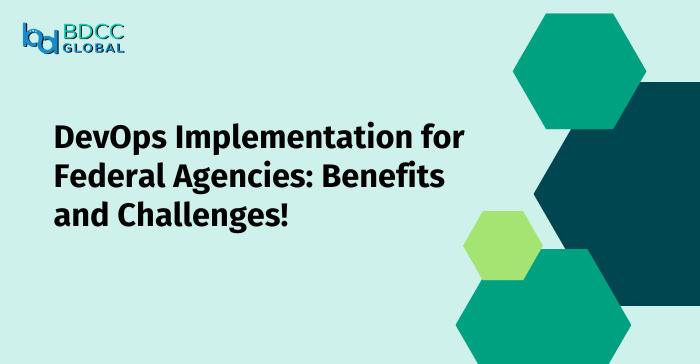 Technology became a fundamental business strategy for every industry to thrive in the present highly competitive market. According to a market report by IDC, the global spending on information technologies and services expected to reach USD 4.3 trillion in 2020, up by 3.6% from 2019.
The coronavirus pandemic has further pushed the organizations to leverage digital technologies to facilitate remote working.
Federal agencies are not an exception to this! The federal agencies are leveraging the latest technologies and trends to increase the efficiency of developing and acquiring new products or obtaining services under constrained budgets.
The Modernizing Government Technology (MGT) Act, 21st-Century Integrated Digital Experience Act (IDEA), and other related initiatives have pushed the US federal and state agencies to move away from ageing, legacy applications, and adopt innovative technologies. DevOps is one such innovative trend that has given federal agencies the means to fulfil their missions with significantly increased productivity and security.
DevOps can help federal agencies ensure Continuous Integration and Continuous Delivery (CI/CD), higher productivity, and service continuity in a secure manner. With DevOps and DevSecOps, the federal agencies can maintain continuity in terms of security, operations and maintenance, especially during the ongoing business crisis.
Some US agencies such as the US Citizenship and Immigration Services (USCIS), the Environmental Protection Agency (EPA) and the General Services Administration (GSA) are already far along in their use of DevOps. The Air Force is another such agency that leveraged DevOps agile practices to release at least 10-30 updates a day.
Here, we bring you four ways federal agencies can benefit from DevOps.
4 Ways Federal Agencies Can Get Benefited from DevOps
1. Minimizing Technical Debts
A faulty software architecture and development code can induce technical debts. The federal agencies are under continuous pressure of highly accumulated technical debts as they try to adopt innovative technologies. Apart from producing additional issues, the unaddressed debts can make IT unpredictable and chaotic. This, in turn, can impact future IT investments.
DevOps approach helps in reducing the technical debts by designing systems that are volatile, robust and adaptive to the changing demands.
2. Reduced Time to Market
DevOps helps in automating procedures that prevent software glitches resulting from deploying defective code into production.
DevOps practices ensure that both Dev and Ops teams are work towards the same goal to ensure that the software code is developed and deployed the best way.
3. Improved Cost Savings
As DevOps focuses on continuous delivery, the involved teams are incited to implement proactive approaches to reduce issues and respond quickly to unprecedented events.
With DevOps, quality is incorporated from the onset of the development processes, which ultimately prevents the delivery of defective code and avoids process iteration, thus saving costs.
4. Keeping Up with Emerging Technologies
DevOps agile practices and methodologies help federal agencies to take their technology practices to a new level. The DevOps tools establish a strong foundation and infrastructure, paving the way for government agencies to adopt flexible and scalable technologies.
Even though DevOps consulting can bring many high-level benefits for the government, the federal sector must address some of the barriers and identify ways to enable DevOps implementation.
Read More: Common Mistakes Organizations and DevOps Service Providers Should Avoid
4 Challenges for DevOps Implementation in Federal Sector-
1. Disparities Among the Decision-makers
Federal organizations have a significant number of decision-making stakeholders with varying priorities and goals. The disparities among the decision-makers hinder the introduction of the DevOps initiative. Moreover, they are hesitant to adopt new technologies as budget constraints and other responsibilities bound them.
So, to get approval for DevOps adoption in the federal sector, the value of DevOps must be portrayed in a demonstrable and quantifiable manner.
2. Changing Governance Structures
The governance processes of the federal organizations for the management of software development lifecycles are different across agencies. So, any change in software development approaches escalates the need for change in the governance structure. To adopt DevOps practices in the federal sector, the agencies must revise their integrated Governance, Risk and Compliance (GRC) structures.
3. Different Incentive Structures
In federal organizations, the incentive structures for Dev and Ops teams are defined separately and differently, which, in turn, impedes the integration of both teams. Moreover, the Dev and Ops teams are managed by different vendors with no common goals.
So, the agencies should develop an appropriate incentive structure that enables mutual collaboration between the Dev and Ops teams. Both teams should be enabled with real-time visibility, even if they maintain isolation of duties.
4. Competing Priorities
Federal agencies are always under the dilemma of choosing an immediate priority or a long-term priority. Owing to the existing technical debts, the investment in something new introduces heavy considerations. Even though DevOps can reduce debts and add long-term benefits, the federal agencies may not prioritize DevOps' immediate adoption.
In Conclusion
DevOps implementation can help federal agencies improve quality, reduce project risks and minimize operational costs. However, implementing DevOps in the federal sector needs a vendor who can understand government challenges and build a flexible solution to meet those challenges.
Disclaimer-
This blog is written by a guest blogger. The views, opinions, and positions expressed within this post are those of the author, they do not, however, represent the opinion or ideas of BDCC Global. The accuracy, completeness, and validity of any statements made within this article are not guaranteed. We accept no liability for any errors, omissions or representations. We are glad to provide such minds a platform to express and are thankful to them for their valued contributions and thoughtful insights on DevOps – which is what we believe in and treasure the most.
The following two tabs change content below.

BDCC
Co-Founder & Director, Business Management
BDCC Global is a leading DevOps research company. We believe in sharing knowledge and increasing awareness, and to contribute to this cause, we try to include all the latest changes, news, and fresh content from the DevOps world into our blogs.