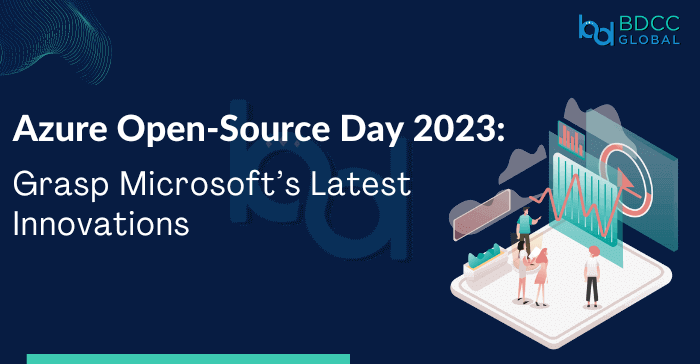 Does learning about Artificial Intelligence excite you? Do you like exploring cloud-based open-source technologies, gear up for the Azure Open Source Day! Microsoft will showcase its latest open-source technology inventions and advancements with Azure starting on March 7th, 2023.
Microsoft's strategy is to introduce new Azure platform features through this special event, dedicated to all its global customers, partners, and IT professionals. This event promises to be as insightful as informative, unveiling Microsoft's latest ventures in cloud technology with AI.
Let's begin by exploring Microsoft's take on the latest open-source technology!
"It's the perfect opportunity for developers to learn how to use data to build and scale intelligent apps faster with Open Source and Azure!"
The Impact Of AI & Open Source In Cloud Software Development
Microsoft's Open Source is a game-changer for cloud development, enabling software developers to access vast resources, tools, and technologies. Artificial Intelligence has transformed how software is developed and deployed in Azure Cloud. Popular AI-enabled cloud platforms enable developers to create intelligent apps to learn and adapt to changes. With AI, developers can create innovative, more intelligent, efficient, and scalable software solutions.
How Does Open Source Work On Azure Build?
Microsoft's brand-new cloud-native application, "Azure Open Source," is the ideal developer tool. It offers many developer tools and services, enabling today's developers to build intelligent yet scalable cloud-compatible applications.
Azure Cognitive Services and Azure Builds are among the top Azure Functionalities that have adapted the AI capabilities of Open Source. The top services that best-demonstrates how Open Source works include speech recognition systems, image recognition systems, and language translator systems. Azure Machine Learning also leverages AI to train and deploy complex ML models. With these tools, software developers can analyze data faster to learn about user behavior. Now, let's explore the top feature innovations by Microsoft this year!
Newly Introduced Features In Azure
This year's Azure Open Source Day aims to highlight the latest features of Microsoft's cloud platform, which has been continuously improved through the company's tireless efforts to enhance its Open Source platform.
Azure Kubernetes Service now supports Windows containers, enabling developers to run both Linux and Windows containers on the same cluster.
Machine Learning now includes AutoML, simplifying the AI process and making it accessible to more developers.
Kubernetes' Event Driven Autoscaling feature allows for the automated scaling of Kubernetes deployments by utilizing personalized metrics.
Azure Database for MySQL now includes support for horizontal scaling.
Azure Cache for The Redis Enterprise offers improved security and performance.
These are some of the most in-demand Microsoft features this year that utilize Open Source technology.
Training Large Language Models At Scale
The emergence of large language models is one of the most exciting developments by Microsoft in recent years. These Cloud Azure AI models can read, write, and generate human-like texts, making them ideal for creating a wide range of interactive applications, such as
Chatbots
Language translators
Content generators
Microsoft's Open Source provides developers with the right tools and services, like Azure Cognitive Services, making it easy to train such large language models at scale.
The Combination Of Open Source With Web3
Web3 represents the upcoming phase of the internet that pledges to be more decentralized, secure, and focused on privacy. Web3 is built on open-source technologies like blockchain and smart contracts, making it possible to create a more open and democratic internet. Microsoft's Open Source plays a significant role in the development of Web3, providing developers with tools and services that make it easy to build decentralized applications. With Blockchain Azure Service, developers can create blockchain networks, while Azure Logic Apps enable the creation of smart contracts.
Top Highlights From The Azure Open Source Day
Microsoft's AZ Open Source Day was an exciting event with surprising insights! From getting technical demos to finding super-cool networking opportunities, IT professionals got the chance to explore so much at this special event! Here are some exciting highlights for the event:
Get app-building demos (Explore how to build fast, scalable, and intelligent applications Azure Containers, Kubernetes Services, and other Azure AI services)
Learn from Microsoft partners like Nvidia (Learn how to use Azure Capabilities to build smart apps using the in-demand open-source technology)
Discover new technology inventions (Discover Dapr as the latest open-source project by Microsoft to build, deploy, and scale microservices faster)
Hear about the latest open-source trends (Microsoft luminaries and partners like GitHub, HashiCorp, and Redis explain how to use open source to drive technological progress)
Get proven support (Check out how Microsoft is fully committed to supporting its customers through several use cases)
Azure cloud developer tools (Learn how identity and security service integrate with various Azure capabilities that can run Web3 applications)
Learn about data protection (Explore how to plan a highly secure cloud platform that meets all open-source security and compliance needs)
Directly ask the experts (Interact with the experts by posting your questions live during the Q&A session)
Steps To Register For This Event
Here are the steps to register for this fantastic event:
Visit the Microsoft Azure website
Click on the "Register" button
Enter the required details in the online registration form with your contact information.
Mention your company name, company size, job role, and country
Select the sessions you want to attend
Submit your registration and wait for a confirmation email
Ready To Expand Your Horizons And Explore Further?
Azure Open Source Day is a must-attend event for anyone interested in cloud technology, open source, ML, and Artificial Intelligence. With Microsoft's latest innovations and developments, IT professionals can learn about cutting-edge tools and services of the Azure Cloud Platform. You can revolutionize the entire software development process with the latest open-source technology. Register today to discover Microsoft's future vision for cloud technology!
The following two tabs change content below.

BDCC
Co-Founder & Director, Business Management
BDCC Global is a leading DevOps research company. We believe in sharing knowledge and increasing awareness, and to contribute to this cause, we try to include all the latest changes, news, and fresh content from the DevOps world into our blogs.