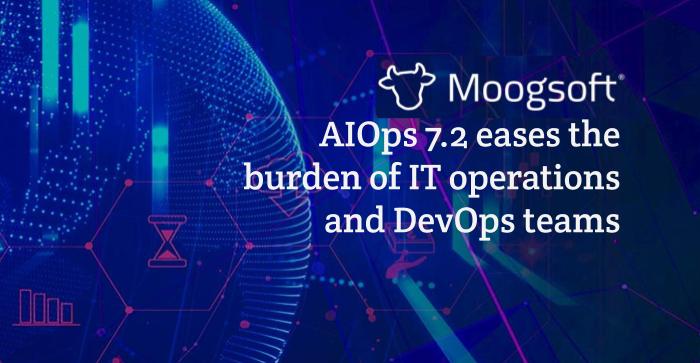 Moogsoft, a pioneer and leading provider of artificial intelligence for IT operations (AIOps), released Moogsoft AIOps 7.2, the latest version of its enterprise platform.
Release 7.2 features groundbreaking new capabilities that ease the burden of IT Operations and DevOps teams by optimizing service assurance. Significant new transparency, efficiency, and customization enhancements include: a new workflow engine, AI visualizations, performance dashboards, and new tool integrations.
"Operations teams seek ways to tame the complexity of their IT environments and make sense of frequent alert storms," said Nancy Gohring, senior analyst for application and infrastructure performance at 451 Research. "Applying sophisticated analytics, including machine learning, is useful for improving the correlation of alerts and delivering better visibility. Automation enabled by this visibility will have a positive effect on incident response time and increase overall ops team productivity."
New workflow engine manages workloads, automates ticketing & notifications
Moogsoft AIOps 7.2's new Workflow Engine provides IT Ops teams the ability to visually create sophisticated custom workflows using a simple but powerful user interface. A rich set of workflow options can trigger actions both within Moogsoft and to external systems for actions such as notifications, ticket creation, and other automated tasks.
The Workflow Engine simplifies conditional event processing with enrichment of event alert data, enabling automation of incident management workflows as well as integration with automated remediation tools.
Situation visualization increases transparency, understanding of how algorithms work
Situation Visualization provides powerful new visual tools for understanding the operation of Moogsoft's alert clustering algorithms and, if needed, for fine-tuning them. Similarity clusters are presented as radar charts for each Situation. They provide a window into how the system's automated decision-making works. Users can understand at a glance the matching criteria for those events that have been correlated together into a single Situation.
Together with Probable Root Cause, Topology, and other visualizations, Moogsoft's Situation Room offers real-time situational awareness to IT Ops and DevOps teams.
Also read- Will DevOps Contribute to the Ongoing Evolution of Software Testing?
Customization features conform to customers' unique organizational needs
Moogsoft AIOps 7.2 introduces a number of new features that personalize and configure the platform for a customer's unique environment and organizational requirements. These comprise:
Situation room headers. The information presented in Situation Room headers can be easily customized to improve operational efficiency. Team members can understand the Situation at a glance and decide on next steps.
Individual statistics. A new analytics dashboard called Individual Statistics allows managers to drill down from the team level to better understand the workload and key performance indicators of each individual team member. This insight allows team leaders and all members to optimize work distributions and overall operational effectiveness.
New tool integrations. Moogsoft AIOps platform continues to expand its broad suite of out-of-the-box integrations for faster time to value. New integrations include connectors to New Relic Insights, Microsoft Teams, and proxy support for all polling integrations (e.g. Zenoss, Zabbix, vCenter, vSphere, Solarwinds, Spectrum, and SevOne).
"AIOps is gaining momentum streamlining IT Operations as well as DevOps," explains Phil Tee, Chairman, and CEO of Moogsoft. "We've built the AIOps market from the beginning, pioneered the way with over 50 patents, and now help over 120 of the largest corporations transform their IT service assurance. Today we're delivering the next-generation platform to democratize the use of AIOps at all organizations. Our goal is to make Moogsoft the solution of choice for all enterprises – large and small – for agile, proactive event resolution. To this end, release 7.2 empowers enterprises to avoid outages, meet service level agreements, and accelerate digital transformation."
Disclaimer- This article was originally published on www.helpnetsecurity.com.
The following two tabs change content below.

BDCC
Co-Founder & Director, Business Management
BDCC Global is a leading DevOps research company. We believe in sharing knowledge and increasing awareness, and to contribute to this cause, we try to include all the latest changes, news, and fresh content from the DevOps world into our blogs.