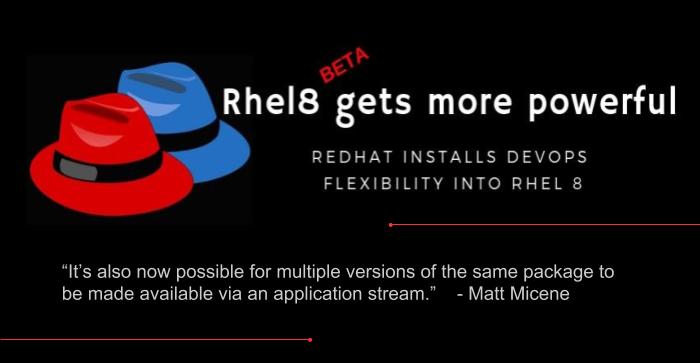 Red Hat is about to make it easier to use emerging operating system services For DevOps developers, without the need of upgrading their entire operating system.
Yes, Red Hat is bringing the DevOps friendly version of Red Hat Enterprise Linux- RHEL 8, and the beta version is already here.
The beta release of RHEL 8 Includes an Application Streams ability designed to make it practical to leverage userspace, as modules running in the userspace now can be upgraded faster than the core operating system.
According to Matt Micene, the technical product marketing manager for RHEL 8, "it's also now possible for multiple versions of the same package—for example, an interpreted language or a database—to be made available via an application stream."
In simple words, different DevOps teams will now be able to work more efficiently with different versions of various classes of technologies without waiting for the next upgrade of the operating system.
Focusing on the flexibility, Red Hat is also setting the stage to make application development easier for the organizations that have embraced microservices based on containers. Open source tools such as Podman for running containers, Buildah for container building, and Skopeo for sharing and finding containers, are completely supportive of the operating system in the new version of RHEL.
Red Hat is increasing support for container networking too using IPVLAN, which allows containers nested in virtual machines (VMs) to access networking hosts. There's also a brand new TCP/IP stack with Bottleneck Bandwidth and Round-trip propagation time (BBR) congestion control. As organizations are excessively adopting containers, many of them are selecting operating systems based on which platform has more built-in container optimized services
Other additional capabilities of RHEL 8 include- a Stratis file management system for dealing with lots of volumes; support for OpenSSL 1.1.1 and TLS 1.3 along with Systemwide Cryptographic Policies; support for the Yum 4 packager; a Composer tool for building custom images that can deployed on hybrid clouds; and a new web console for managing the RHEL environment that provide administrators with the same user interface experience regardless of their experience.
Source- Devops.com
The following two tabs change content below.

BDCC
Co-Founder & Director, Business Management
BDCC Global is a leading DevOps research company. We believe in sharing knowledge and increasing awareness, and to contribute to this cause, we try to include all the latest changes, news, and fresh content from the DevOps world into our blogs.