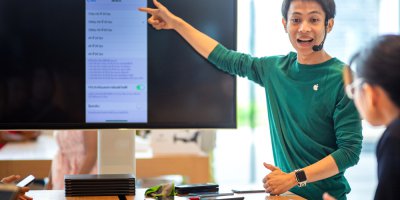 NEXT generation business leaders are looking to move away from DevOps.
"Some time ago we made the decision to remove "DevOps" as a role within the organization. I didn't really like DevOps as a term because it implied that we had a team solely dedicated to DevOps work and we didn't want anyone to have that perception," The Iconic's Head of Engineering and IT Ollie Brennan explained to Tech Wire Asia.
"We hire "full stack" engineers and believe that the underlying platform should not be any different."
The company rebranded its DevOps team and called it the Platforms team and drove a mindset change within the company to ensure that everyone within the technology division of the online retail company focused on growing their skillset.
Getting rid of the DevOps badge is quite an important choice for the organization as well because it is fostering a culture of mentoring and coaching.
According to Brennan, this also creates an opportunity to share (development and engineering) best practices during training days at The Iconic.
"Doing away with a team dedicated to DevOps meant it was each team member's responsibility to add DevOps to their overall T-shape (length and breadth) skillset."
Brennan believes that the shift away from DevOps has been positive.
The IT professional cited an example of an Android engineer in his team who learned about new skills to support his development needs demonstrating that getting rid of the crutches of DevOps can work wonders for teams in today's fast-paced environment.
"The engineer demonstrated what we wanted – an environment where people were willing to do everything."
Focus on developing skills
"What organizations need to realize is that DevOps is a practice and is constantly evolving. The idea that developers should be responsible for their own code – writing, testing and making sure it works – is probably not going away anytime soon."
Brennan emphasizes a need for stronger skills across the length and breadth of the engineering team. His opinion is echoed by many experts in the application/software development world who believe that engineers need to go above and beyond if they want to be effective in this day and age.
Also read- Will DevOps Contribute to the Ongoing Evolution of Software Testing?
The Iconic's Android developer is one example — in time, there will be many more at The Iconic, as a result of the shift away from DevOps.
When more organizations do this, it'll force their specialists to become more resourceful and more creative, enabling them to think outside the box and create more interesting features and solutions independently — resulting in a strong business, a more robust platform, and a quicker, more intelligent team overall.
"Whether it's called DevOps, platforms or something else, you have to track the right metrics and KPIs to gauge its success. No matter what practice you decide to adopt, always remember that measurement is key."
Teams that perform the best will be teams that are able to learn on-the-fly and have a broader skill-set. That's the key to intelligent developments.
Disclaimer- This article was originally published on techwireasia.com.
The following two tabs change content below.

BDCC
Co-Founder & Director, Business Management
BDCC Global is a leading DevOps research company. We believe in sharing knowledge and increasing awareness, and to contribute to this cause, we try to include all the latest changes, news, and fresh content from the DevOps world into our blogs.